Holley Mountain Linked System - updated 10-12-08
The Holley Mountain linked "Skywarn" system was a cluster of seven 2-meter repeaters in northern and central Arkansas and has since joined forces with the Central Arkansas UHF Society, better known as CAUHF as part of a dynamic and growing group of repeaters in the state, named ARLinks. The operational hub for the original Holley system remains located at the present Holley Mountain repeater, just NE of Clinton at the Holley Mountain Airpark.
Much credit goes to Jim N5YU for his accomplishments in establishing this system. The National Weather Service forecast office in North Little Rock through volunteer ham operators can access the system during times of severe weather and tests, and can utilize a 2-meter remote base at the Holley site to access repeaters in areas not in the systems' coverage, or with proven greater interest for operators in that area during these situations.
PL for systemwide access as of this update is 114.8Hz. I'm no longer certain if Batesville's 147.27 W5VAE repeater participates any longer. If so, they are the sole exception to the tone, except during SKYWARN nets.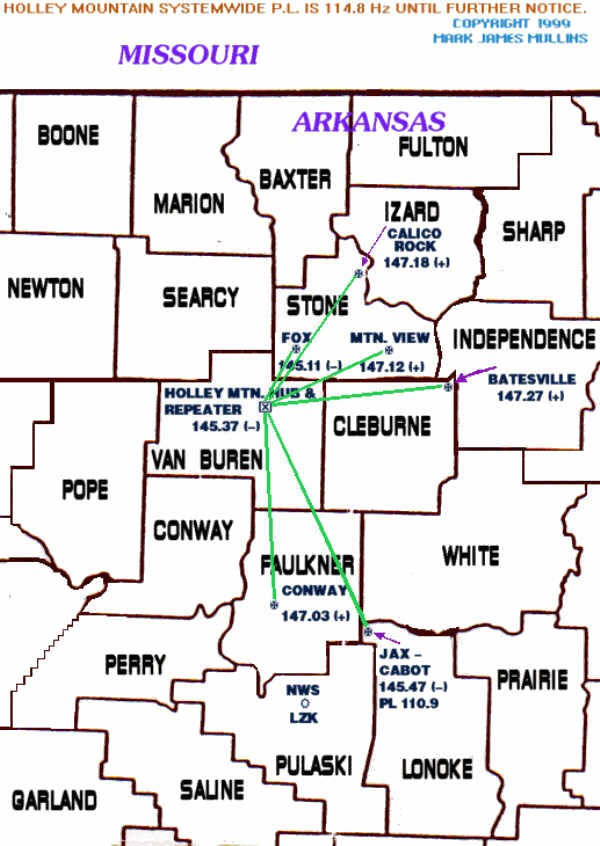 The linking to Fox was finished during Spring 2003 when AETN completed their upgrade of antennas and tower to DTV Channel 13. The link tone was 151.4Hz for Fox from 2003 to early 2006 and operates today with the rest of the old cluster at 114.8Hz for linkwide access. The local tone for Fox was copied from the old 145.47 Jacksonville/Cabot repeater (no longer on-air and KB5EJJ near Bauxite has an operational machine as of 2008 with 114.8 tone. I haven't asked Harold if its coordinated yet.)
All operational machines on the old Holley cluster use PL 110.9 for local access at all times including nets and Skywarn and 114.8 to access linkwide.
A helpful hint - When operating the link, even in "Net Only" mode, key down for at least an entire second before you speak! The link is not instantaneous so you have to allow time enough for the many hops through the whole system to activate so a word or two you say (or even your ID as required by the FCC) isn't chopped off at the receiving end. Of course this doesn't apply to local operation of any participating repeater. This diagram is subject to change due to modifications.
For the latest known information on the hub or associated repeaters, you may view the latest FLASH.
"PL" or Private Line (subaudible tone) remains a trademark of Motorola. CTCSS is synonymous of course.
Other webpages authored by Mark James Mullins